A Rare Connection: My Photo Shoot with John Schneider
---
I recently got asked to shoot photos for a show called "The Haves and HaveNots" for the Oprah Winfrey Network. I've shot many shows in my career and I always enjoy these shoots because there are so many challenges involved.
There's tons of "talent" aka celebrities involved, all their teams, all the hair, makeup and wardrobe involved, there's very limited time, there are tons of shots to create, there's an immense pressure to "nail" the creative concept and obviously there is usually lots of money involved. These are high budget, high-pressure shoots. It's diving into the deep end for sure, as far as photography is concerned. And I love that challenge. I love stepping up to the plate and going for the homerun.
But one of the things I DON'T love about these shoots is that I never really get to connect with the people I'm shooting. They're in and out in minutes. Sometimes I literally am only able to take a few pictures before they're wisked away.
This is one of those VERY few rare occasions where I was able to connect. And I have my subject to thank for allowing me into his story.
One of the cast members was John Schneider. You might know him from his work on "Dukes of Hazard" or "Smallville". John was one of my many subjects that day and like the rest of the cast, he was extremely professional, humble and a lot of fun to work with. He was killing his portraits… smiling, goofing off and he even threw in several impressions of famous actors and presidents. I was very impressed by his talent and good-natured humor. You can see some of those portraits below.
Towards the end of his session, we brought in one of the female cast members to interact with. They were dancing, laughing and having a great time. Again, I was very impressed by his ability to light up the camera and have a good time.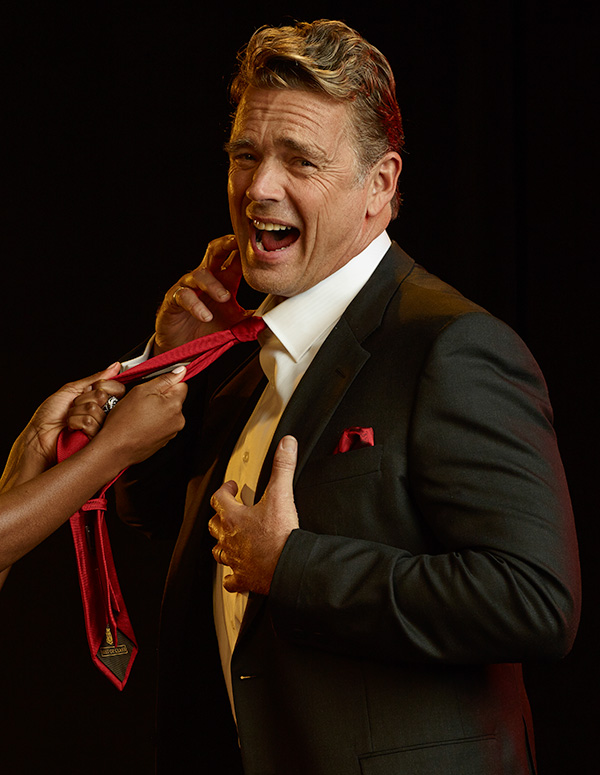 Once we wrapped up his session, the female walked off set and John came to me and whispered in my ear "Hey can you sneak a few more portraits of me?" and I said "sure of course". He said "there's something going on and I just need a photo."
So I grabbed my camera again and John walked back on set.
He immediately began weeping. Legitimately crying. He was so good at impressions that I thought this was another impression and I thought "wow, what an acting talent."
But then after a couple of frames, I could tell that this wasn't an act. He was really somewhere else.
Finally, I put my camera down. This was too real. It didn't feel right to keep shooting.
So I walked up to him and hugged him.
He whispered in my ear "My Dad died about an hour ago. I found out during our lunch break. And I wanted you to capture that for me."
Then he walked up to my screen, looked at the portraits and pointed to the last one (seen above, last) and said "That's it. That's my Dad."
"I'm so sorry." I said. I was stunned. Shocked. And deeply moved, obviously.
I didn't want to ask any further questions out of respect.
John took off shortly thereafter to go back home to plan the next steps with his family.
I've since received official permission from John to share this story and these portraits with you. I will never forget this moment. And I want to thank John for inviting me into his story, even just for a moment and for allowing me to capture this for him.
As a father myself, I wept for him. We all did that day.
---
About the author: Jeremy is a Celebrity Photographer, Entrepreneur and a Humanitarian. He founded a global photography movement called Help-Portrait and recently launched an iPhone App/Social Network called OKDOTHIS. His goal in life is to use his platform, ideas and creativity to inspire and help others in need. You follow him and see more of his work on his website, Twitter, Facebook, Google+ and OKDOTHIS. This article was originally published here.