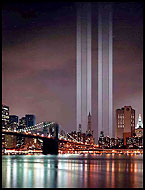 Six Months After, A Memorial Built On Beams of Light (washingtonpost.com)
The two light beams, made up of 88 intense searchlights arrayed in two side-by-side 50-foot squares, will cost about a half-million dollars, which covers the installation, security and a lighting technician.

The beams will be lighted from nightfall until 11 p.m., but are subject to temporary shutdown based on Federal Aviation Administration concerns about how the light plays in certain weather conditions and conservationists' concerns about the impact on bird migratory patterns. They worry the lights could draw migrating birds to their deaths.